Instead of adding one more "fantasy sleepers" article to the flaming heap, I decided instead to put my researcher's cap on and do my own informal study to see which sleepers are liked by the most fantasy football experts. (Given how much money I spend on fantasy football preview magazines each year, why not?)
It was a simple study: look through as many magazines as I could, including Rotowire, CBS Sports, Fantasy Football Index and more, as well as sleeper articles from the top fantasy websites, and tally up the sleeper picks. For a complete list of sources, see the end of the article. 
For each position below, the player who was cited as a sleeper the most times will be featured, as well as the runner up. I'm also including a simple list of the others who were also cited multiple times. Finally, I'm including short preseason updates where necessary for the top-cited sleepers, as things change quite a bit from when fantasy magazine preview articles are first written in spring and now. 
Quarterback Sleepers
Quarterback Sleeper, Consensus Pick
Kyler Murray (ARI)
"Murray's a rookie, but he should see a lot of attempts in coach Kliff Kingbury's up-tempo offense, and he is also an elite scrambler. The floor is low if he struggles to adjust to the pro game, but the ceiling is a top-3 fantasy quarterback." — Christopher Liss, Rotowire
"For fantasy quarterbacks this season, you should always draft for upside because the position is loaded with talent. If Murray fails, you should find a capable option on waivers. But if Murray succeeds, you should get a star quarterback with a late-round pick." — Jamey Eisenberg, CBS Sports 
Preseason Update: Murray was impressive during offseason workouts and perfect in his first preseason game, going 7-of-7 for 49 passing yards, mostly on short passes to various receivers. He had ups and downs in his remaining games. The Cardinals emphasized getting the ball out quickly with Murray, which didn't lead to many big gains this preseason.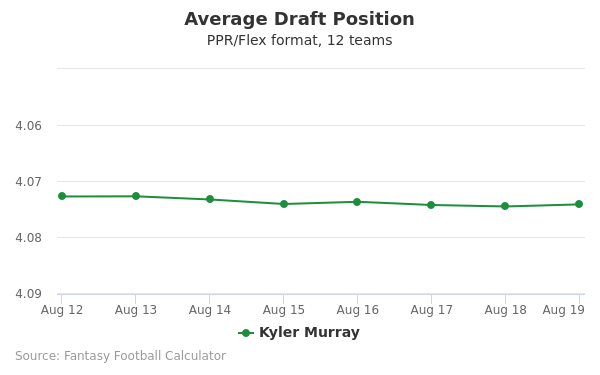 ADP from Fantasy Football Calculator
Quarterback Sleeper, Honorable Mention
Dak Prescott (DAL)
"In 11 games with Amari Cooper, Prescott was on pace for 4,305 passing yards and 32 total touchdowns. He won't be drafted as a starting quarterback in most leagues, but the expectations should be a top-12 season as long as Cooper and Ezekiel Elliott stay healthy." — Heath Cummings, CBS Sports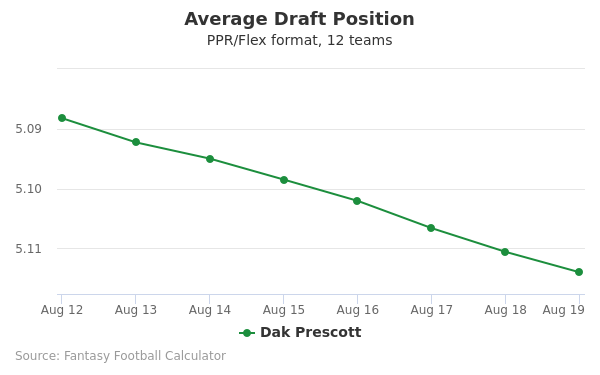 ADP from Fantasy Football Calculator
More Quarterback Sleepers
Jameis Winston (TB)
Lamar Jackson (BAL)
Derek Carr (OAK)
Jimmy Garoppolo (SF)
Mitch Trubisky (CHI)
Josh Allen (BUF)
Running Back Sleepers
Running Back Sleeper, Consensus Pick
Latavius Murray (NO)
"New Orleans wanted to re-sign Mark Ingram, but Murray might be just as good. When the Vikings used him in a starting-type role the last two years, he averaged 66 rushing and 12 receiving yards, with 12 touchdowns in 17 games. The Saints likely will look to work him in extensively to avoid burning out Alvin Kamara." — Fantasy Football Index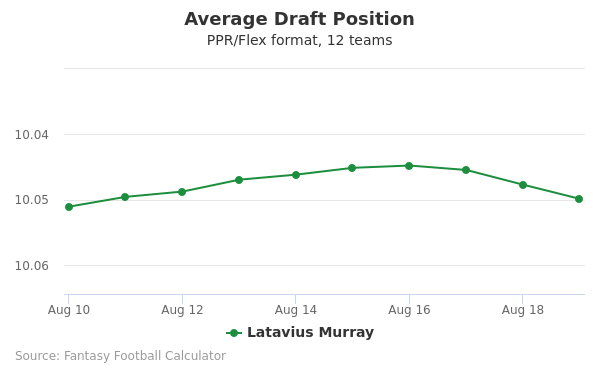 ADP from Fantasy Football Calculator
Running Back Sleeper, Honorable Mention
Darrell Henderson (LAR)
"Henderson put up video game numbers as a Junior at Memphis, averaging almost 9.5 yards per touch on his way to over 2,000 all-purpose yards. Henderson should benefit from the likelihood that the Rams limit Todd Gurley's carries in the regular season to keep him fresh for the playoffs." — Scout.com
Preseason Update: Henderson was heavily involved in the offense during the first two preseason contests, with 12 rushing attempts for 29 yards and seven receptions for 33 yards.  But with Todd Gurley and Malcolm Brown out in the third game, Henderson struggled as the leader, with 11 carries for 28 yards. With an overall lackluster preseason performance (overall 23 carries for 57 yards), odds may be that Brown will see more work if Gurley goes down.
ADP from Fantasy Football Calculator
More Running Back Sleepers
Kalen Ballage (MIA)
Mark Ingram (BAL)
Carlos Hyde (HOU)
Darrius Guice (WAS)
Kenyan Drake (MIA)
Miles Sanders (PHI)
Wide Receiver Sleepers
Wide Receiver Sleeper, Consensus Pick
Dede Westbrook (JAC)
"The former Biletnikoff winner racked up 23 catches over the final month of last season and has emerged as Jacksonville's clear No. 1 wide receiver (and Donte Moncrief left during the offseason). Nick Foles should be an upgrade at quarterback for the Jaguars. Westbrook also lined up in the slot 89.0% of the time last season (the second-highest rate in the NFL), which is a great way to rack up catches." — Dalton Del Don, Yahoo! Sports.
Preseason Update: Westbrook was targeted by Nick Foles on seven of his 10 throws in the team's third preseason game. The 25-year-old looks to have excellent chemistry with his quarterback and could break out in 2019 after catching 66 passes for 717 yards and five touchdowns in his second season.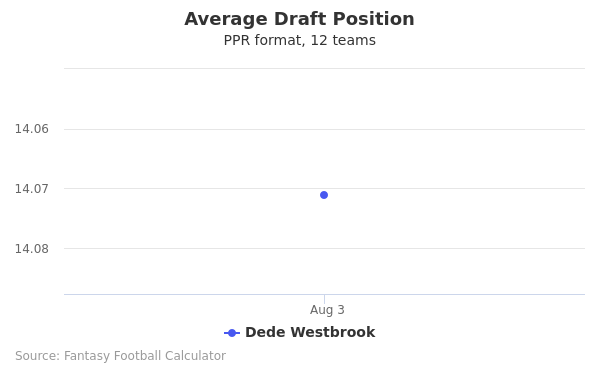 ADP from Fantasy Football Calculator
Wide Receiver Sleeper, Honorable Mention
Christian Kirk (ARI)
"With Larry Fitzgerald no longer any kind of downfield threat and a host of rookies around him on the depth chart, Kirk … might be best positioned to exploit that window in which his new coach is taking the NFL by storm." — Erik Siegrist, Rotowire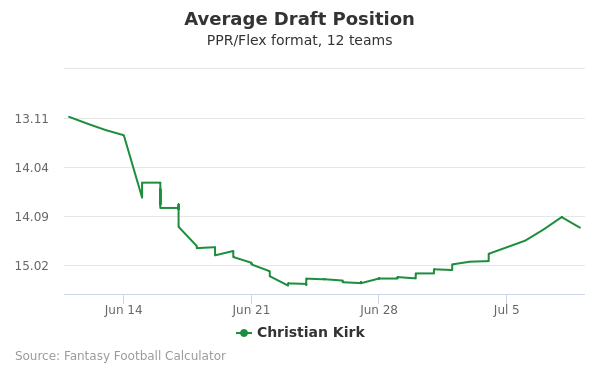 ADP from Fantasy Football Calculator
More Wide Receiver Sleepers
Dante Pettis (SF)
Keke Coutee (HOU)
James Washington (PIT)
Geronimo Allison (GB)
D.K. Metcalf (SEA)
Tight End Sleepers
Tight End Sleeper, Consensus Pick
Vance McDonald (PIT)
"If you are going to skip on the elite options and wait until the end to fi ll your TE spot, McDonald is a good candidate. Here are two reasons why: Fellow TE Jesse James and WR Antonio Brown are no longer around. Actually, it would be 208 reasons — the number of targets that Brown and James took with them on the way out of town. McDonald could slide into more of a full-time role, potentially stepping in as the No. 2 target." — Corby A. Yarbrough, Athlon Sports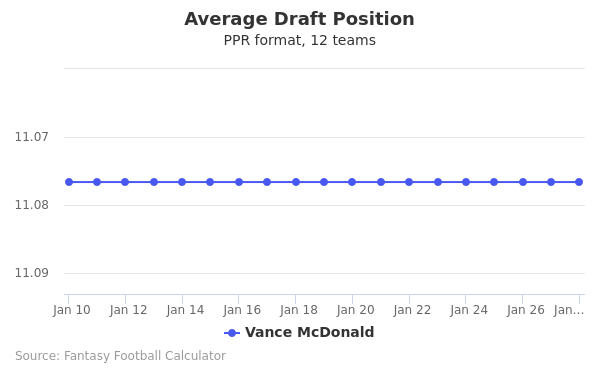 ADP from Fantasy Football Calculator
Tight End Sleeper, Honorable Mention
T.J. Hockenson (DET)
"Hockenson looks explosive if given space with the ball in the open field, plus his hands will be assets. At the very least, he'll be a two-down pass catcher early in his career with more playing time available if he can handle his responsibilities run blocking." — Shawn Childs, SI.com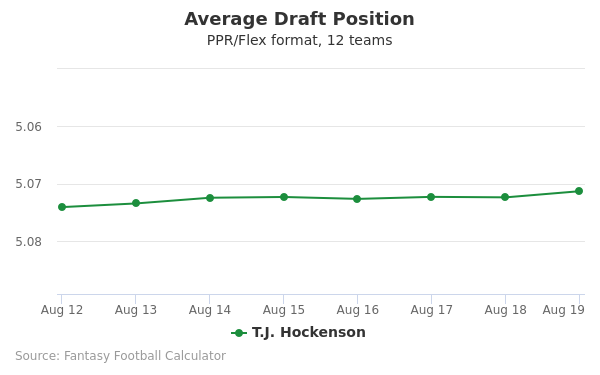 ADP from Fantasy Football Calculator
More Tight End Sleepers
Mark Andrews (BAL)
Darren Waller (OAK)
Jordan Reed (WAS)
Dallas Goedert (PHI)
Noah Fant (DEN)
Chris Herndon (NYJ)
Sources: Athlon Sports, CBS Sports | Beckett Sports, Fantasy Football Index, Rotowire, ESPN.com, SI.com, NFL.com, SCOUT.com, Yahoo! Sports
Other Articles